Six Tips for Success in First Year
Dr. Janice Newton, Associate Professor
2005 National 3M Teaching Fellow
Political Science and School of Women's Studies
Phone: 416-736-2100, ext. 88827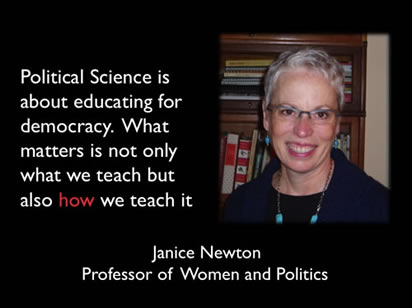 Prepare a Realistic Timetable
Your timetable should include 10 hours per week for each six-credit course. A full course load (30 credits) is a full-time job of roughly 40-50 hours a week. That translates into 8-10 hours per course per week. If you only schedule class time (3 hours a week) on your timetable, it looks as if you have lots of time to do other things. However, you need to include an average of 3 hours per week for preparation per course, like doing required reading or other homework, as well as 3-4 hours per week for doing assignments like major essays. If you read slowly, it may take you longer. Schedule these blocks of time when you are well rested and fresh - not when you are tired. A tired brain does not learn efficiently. If you first block out these three units of time for each course (class time, preparation time and assignment time), you will have a more realistic picture of the time it takes to succeed in university.Adjust your course and work load accordingly. Be sure to include realistic estimates of the other time commitments: commuting time, family responsibilities, sports and recreational commitments, part-time work, etc. For every 10 hour commitment to other activities, drop 6 credits. For example, if you work 20 hours a week, you should be carrying only 18 credits. Finally, do not schedule every hour of the week. Leave at least one day a week unscheduled otherwise you will burn out. We all need downtime to re-charge and be ready for the next week.
Attend Free Workshops
Just because you did a workshop once, don't assume you do not need to do one again. Attend the free workshops offered through the library and Centre for Academic Writing. They are invaluable. Keep going to them throughout your degree. You will always learn something valuable.
Stay Current
Follow current events through radio, TV, newspapers or online. CBC Radio has excellent political programming through the current, the Sunday Edition and other programs. All are available on podcast. The Toronto Star is free on campus. Explore connections between current events and your courses.

Make Friends
Don't just attend class and go straight home. Make friends in courses and talk with them about the course material. Study and review in groups. Harvard research showed students studying with others had greater success.
Engage
Participate in the Political Science Students Association, join a club, attend free lectures, volunteer, or find other ways to engage with the York community. You can learn as much in your extra-curricular activities as you can in your classes and this will greatly enhance your university experience. Again, Harvard research showed that students who volunteered earned higher grades than those who did not.

Talk to Us
Get to know your professor. Drop in to their office hours with your questions. Most important, if you run into trouble, let us know. You would be surprised at how helpful we can be. We want you to succeed.