How to do well in my first Political Science course?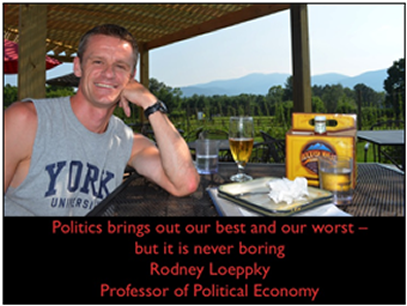 Advice from Professor Rodney Loeppky, Course Director, AP/POLS1000D:
 University has more personal freedom and less structure - it is empowering, but beware: manage your time and spread out your tasks. If you let things pile up until the end of semester, the stress and anxiety will undermine your own efforts.
You are in your first year, and you should put in your best effort, but do not fixate on the 'A' grade. In fact, falling short of the 'A' grade (it doesn't matter how far short you fall) is probably the moment when we learn and develop the most. Try to use these moments to improve for the next assignment. Where did you go off course? What could you do strengthen your future work?
Review your material daily (do your reading!), but also try to start thinking politically. Thinking politically means caring about the world, not just passively letting it go by you. Read the newspaper, ask questions in your tutorial, and don't be hesitant to get into conversations with your fellow students.
Reach out and make friends with your fellow students. They will help and support you, and they will make the university experience much better.